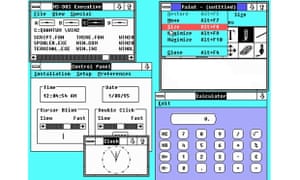 1985.  I had been working as a video producer for two years.  Using typewriters to write and edit scripts.  Computers were coming out using DOS.  Quick quiz…who can tell me what DOS stands for?  The old black or green screens with pale green or amber text.  Nothing was graphical, other than maybe some of the language we used when we could not get the computer to do what we wanted it to do.
Take a look at the link below and see a timeline of Windows based computers since 1985 up to this point.  And share your memories of your earliest use of Windows based systems, and what are the best and worst things that have evolved in them over the last 30 years.
Now, to answer the $64,000,000 question:  DOS stands for Disk Operating System.  And if you still know how to work from a C prompt or know how to create a batch file, pat yourself on the back.  You're the winner!!
Source: Windows turns 30: a look at the operating system through the ages